What is a 4K TV and its benefits?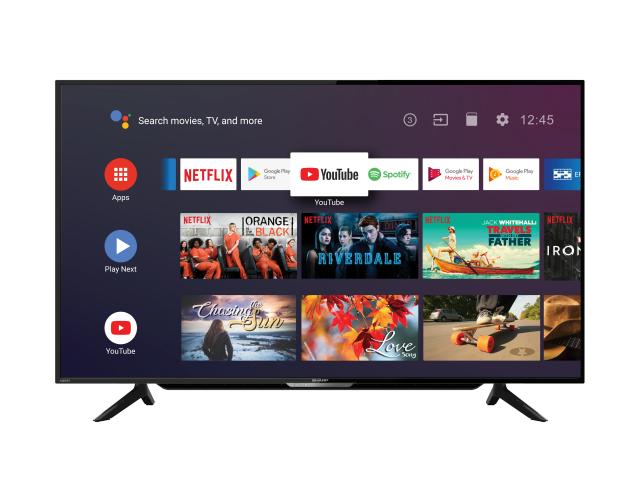 Sharp AQUOS 70" 4K UHD Android TV- 4T-C50BK1X
Watching a 4K TV, you'll see everything on screen in crystal-clear clarity and incredible detail. There are many improvements of a 4K TV that a Full HD TV simply cannot achieve, such as color tone, contrast, content, to name a few.
What are the main differences between a 4K TV and 2K (Full HD) TV? Is 4K TV necessary since it costs more than a Full HD TV?
To make things clearer, this blog contains the knowledge you need to know about a 4k TV.
What does the word '4K TV' means?
We often refer to a Full HD or 2K TV as 1920p, as it contains 1,920 x 1,080 pixels. However, a 4K TV is an advanced technology with four times more pixels than a Full HD, which is 3,840 x 2,160 pixels.
A 4K TV is also known as Ultra HD or UHD and works more effectively on a larger screen. You will find a 4K TV with bigger screen models, generally with 40 inches or more.
The 4K resolution and its advanced processing technology bring you stunning clarity that makes all images more life-like.
What are the Differences between 4K and 2K (Full HD) TV?
Resolutions and Pixels
Screen resolution is the main difference between a 4K and 2K (Full HD) TV. Meanwhile, pixels are terms used to denote the resolution of the TV screen.
A pixel is the smallest digital graphic unit displayed and represented on a device. These pixels are organized into rows and columns.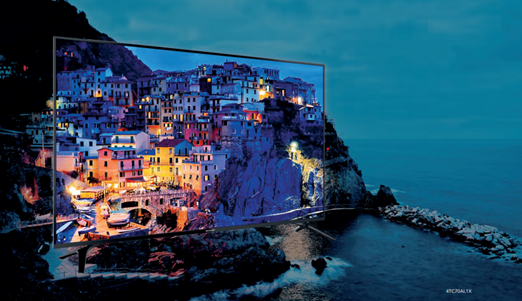 Pixels of 2K and 4K TVs:
2K or Full HD: 1920 x 1080
4K or Ultra HD (UHD): 3840 x 2160
So, a Full HD TV with a 1920 x 1080 resolution means that it displays 1920 pixels per line and 1080 per column. Meanwhile, a 4K TV displays 3840 pixels per line and 2160 per column.
The greater the number of pixels a screen has, the clearer the image will become – and this means the higher resolution of the product.
Colors
In terms of the color displayed, the higher pixel numbers and resolution of a 4K TV help them outcompete the Full HD TV.
4K TVs can offer a more extensive color palette and broader color gamut than a 1080p TV.
4K TVs could supply more realistic images as the screen can display a more accurate depth with exceptional contrast—this feature leads to a more contrasting effect between light and dark than a Full HD TV.
Also, 4K is now a preferable way to look for HDR or Ultra HD (UHD) features.
Devices
Full HD TVs were once the most common type of HDTV set with a screen resolution of 1080p. Computer monitors or laptop screens are widely available in 1080p.
We can say that Full HD TV with lower resolutions is more suitable for smaller screen devices. Screens at 40″ and below are not large enough to support 4K graphics to look sharper or clearer.
Content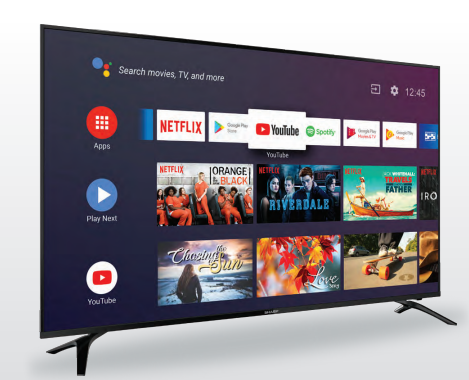 *YouTube, Android TV and other marks and logos are trademarks of Google LLC.
Besides, we can differentiate Full HD TV and 4K TVs based on their availability and content.
Almost all streaming platforms support Full HD TV content in the past, but major streaming platforms like Netflix, Amazon Prime, and YouTube have already joined the 4K team now.
Benefits of a SHARP 4K TV
Picture quality – Resolution
A 4K display reveals so much more nuances and detail. You will be more like "gazing through a window" instead of watching a TV due to their realistic image quality displayed.
Also, the higher pixel density of a 4K TV also enables you to get much closer without the grid-like structure of the image itself becoming visible –this means you can comfortably watch a much larger screen from the same seating position as your current Full HD panel.
TV powered by Android TVTM – a New Convenient Lifestyle Start with Sharp AQUOS 4K.
SHARP's 4K TV promises you an easier way to enjoy the entertainment you love. Stream from your favorite apps, play music and games, cast from any device, and more.
Google Assistant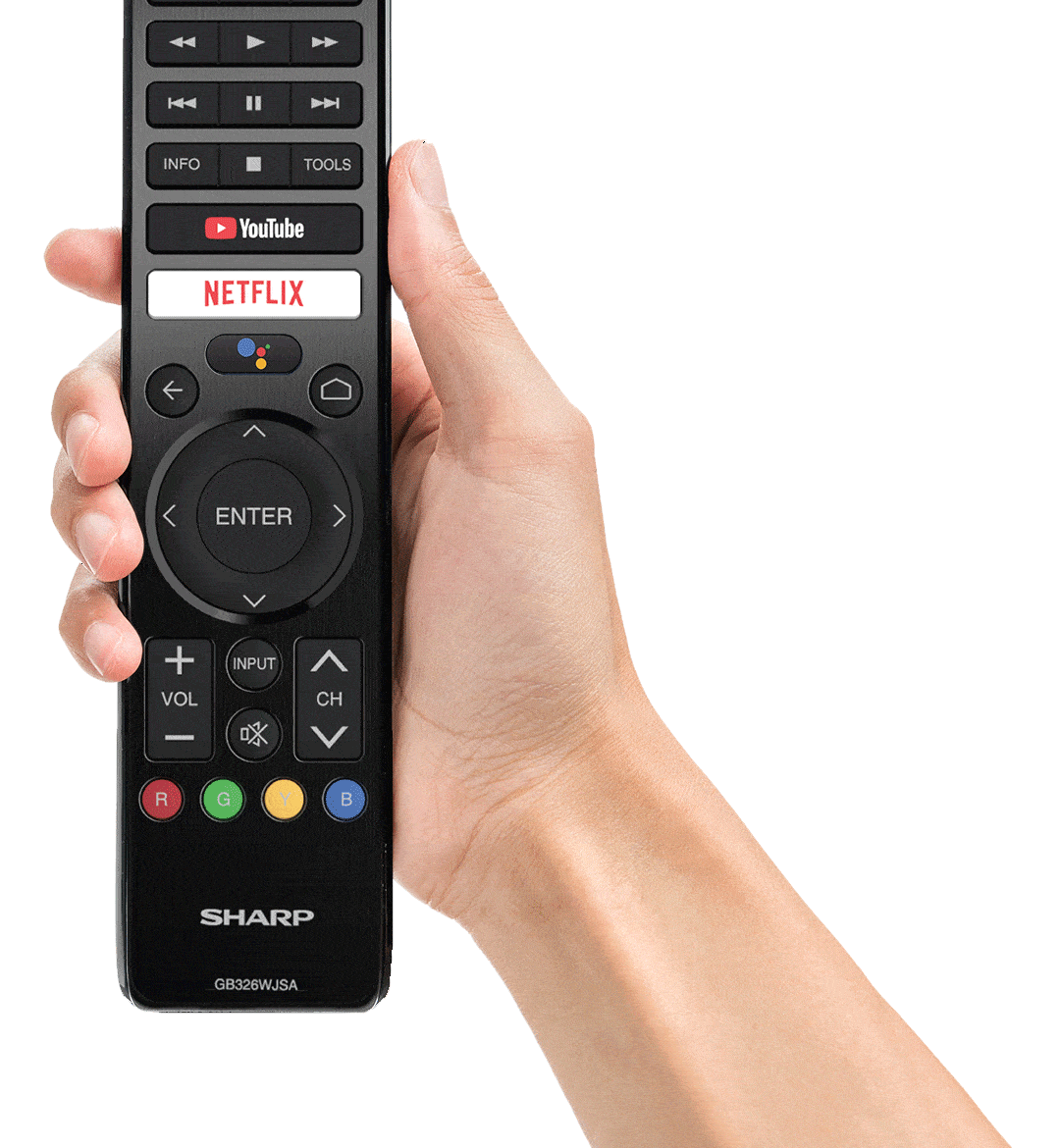 Android TV™ with the Google Assistant provides a smarter viewing experience. You can quickly access entertainment, get answers on screen, control smart devices around your home, and more using your voice. Press the Assistant button on your remote to get started.
Meet over 7,000 apps on Google Play
It brings together all the entertainment you love and helps you explore it in new ways, anytime, anywhere.
Sharp's AQUOS 4K TV lets you stream your favorite entertainment from your phone, tablet, or laptop right to your TV.
Control Smart Home Devices
Use your voice to create the perfect viewing environment. You can control your smart home devices at your ease, be it adjust room temperature, lighting, and more.
Chromecast built-in technology in 4K TV lets you stream your favorite games from your phone, tablet, or laptop right to your television in 4K mode.
Aside from the incredibly sharp images that are its hallmark, it also supports faster refresh rates, has low-latency game modes, and can deliver stunning imagery through its HD modes in 4K.
Simply put, 4K TV is designed to bring the sorts of things you enjoy on your phone to your TV.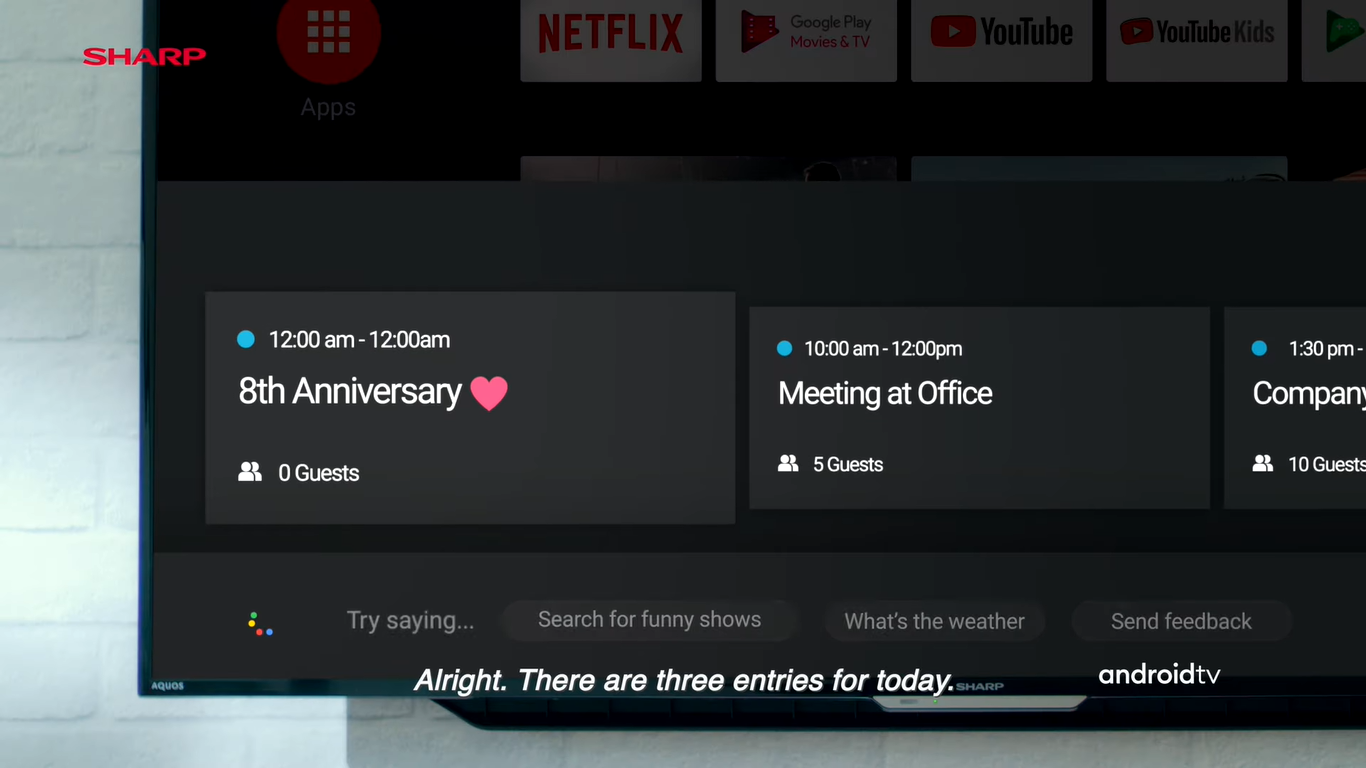 Although we are now firmly in the modern era, we are not all watching 4K content. Full HD images on a 4K panel will not look better, just bigger, however, unless some clever upscaling is used.
But now, with 4K TVs' Upconverter technology, it can convert your SD or HD videos into 4K resolution, producing superior image quality. The upscaling process ensures that the image or video fills the screen's 4K resolution.
Content of 4K
Streaming services – Netflix, Amazon Prime Video and YouTube
We can see that many industry leaders are making the 4K switch now. More famous platforms such as Netflix, Amazon Prime Video, YouTube and many more content are available in 4K resolutions, and more platforms are expected to join the team soon.

If you want the best image, video, and audio quality, you need to watch them in 4K resolutions. Streamed 4K movies can bring you to the next level of watching experience. Also, the movie is sharper in fine details, has fewer distracting artifacts, and has a better overall image.
On the audio side, even streaming content uses compressed audio formats, but in 4K, it will deliver to your lossless audio for enhanced clarity.
SHARP AQUOS 4K UHD TVs
Enjoy the Biggest Excitement Together
SHARP Exclusive AQUOS technology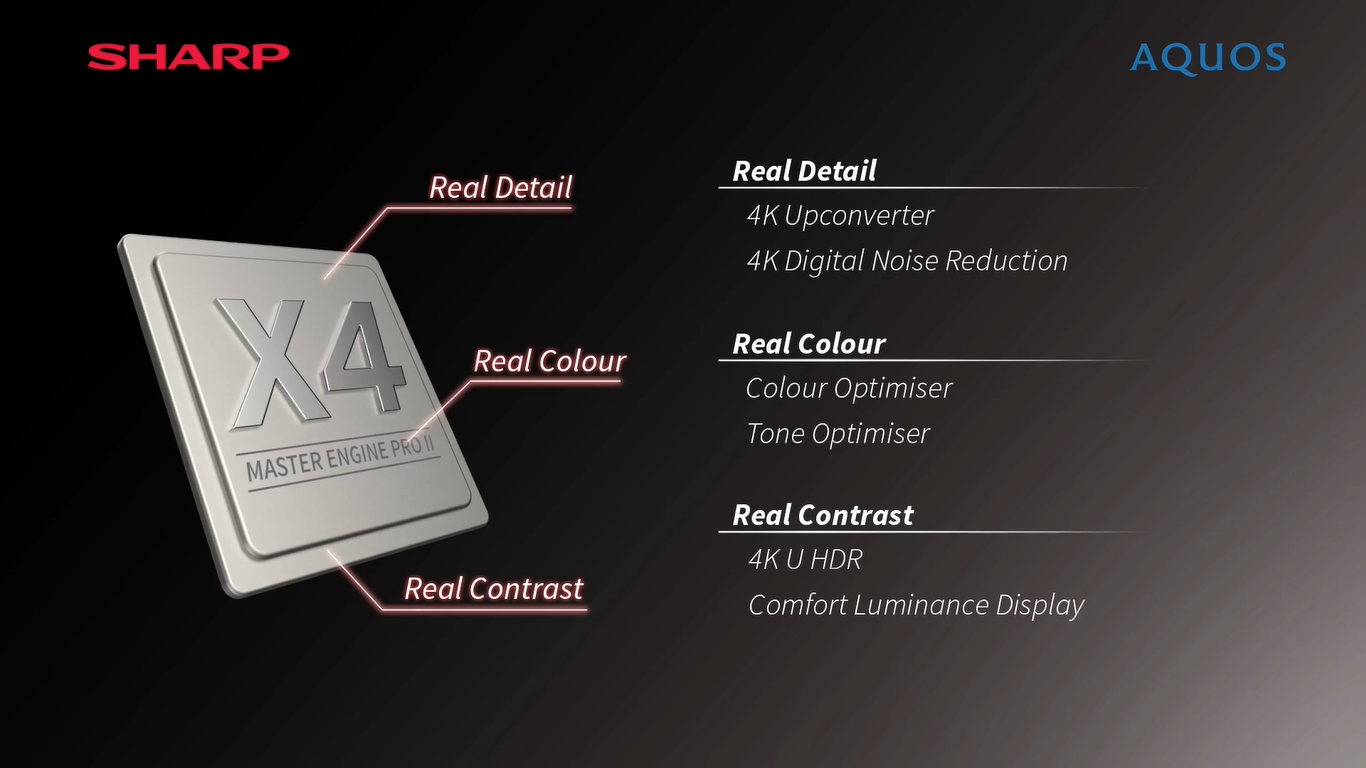 4K Upconverter
Sharp 4K Upconverter can convert your SD or HD videos into 4K resolution, producing superior image quality.
4K Digital Noise Reduction

This technology maintains clear image quality by reducing the undesirable pixelation that occurs during upconversion.
Better color reproduction
SHARP TVs are notable with better color reproduction to provide a more realistic viewing experience.
Color Optimizer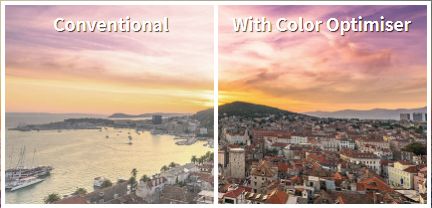 The optimizer automatically adjusts the color displayed to those naturally detected by the human eye, resulting in actual color.
Tone Optimizer
A tone optimizer gives natural color tones by providing you with 64 times more color levels when compared to regular displays.
4K U HDR Real Contrast
Pictures display superb and accurate depth and exceptional contrast between light and dark, delivering a nuanced picture.
Comfort Luminance Display
Comfort Luminance Display uses an LED backlight to produce an extraordinary, true-to-life brightness.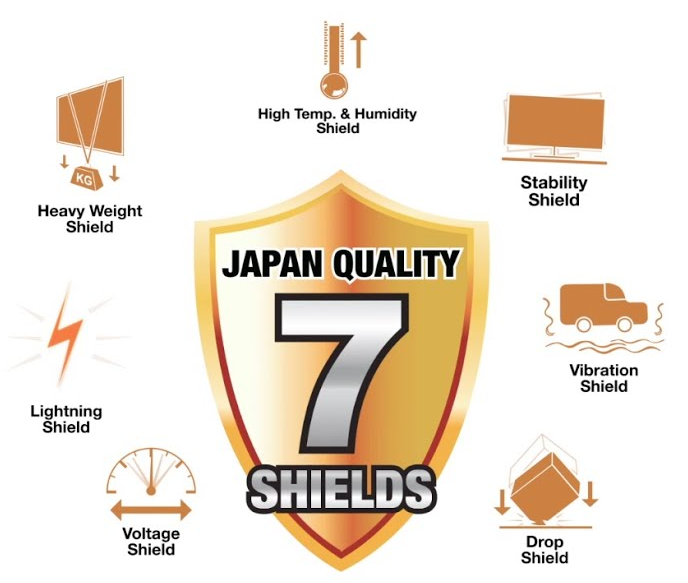 ALL SHARP products pass strict Japanese quality standards. SHARP TVs are proven to have safe protection and high endurance under various circumstances.
Lightning Shield
Watching video during heavy rain without worries due to TV parts following EMC standard.
Heavy Weight Shield
The design of our wall mounting brackets are tested against IEC 60065 weight loading standards.
Voltage Shield
Safe product operation is ensured throughout, as our TVs can handle more than the standard voltage (110V-240V)
Drop Shield
The protective performance of our packaging and the durability of SHARP LED TVs are proven by passing strict drop tests.
Stability Shield
Our proven structural stability has been benchmarked against IEC 60065 standards
Vibration Shield
Our quality carton packaging design and high build quality of SHARP LED TVs are proven to be vibration resistant during delivery
High Temperature & Humidity Shield
Reliable SHARP LED TVs are proven and tested based on IEC 60065 standards to withstand high temperature and humidity settings.
Specifications You Couldn't Resist:
4K Ultra HD - AQUOS 4K TVs come with the latest HDR standards and couple with SHARP's high luminance technology, giving you a consistent lifelike contrast between light and darkness.
X4 Master Engine Pro II - The X4 Master Engine Pro II processor allows SD and HD videos to be up-converted to 4K resolution with minimal noise while maintaining image quality.
Android TV - Enjoy a great variety of apps for videos, news, and games from Google Play with the latest all-in-one Smart Remote.
Learn more at: https://ph.sharp/products/4k-ultra-hd-tvs
Note: Google, Google Home, Android, Google Play, Chromecast built-in and other related marks and logos are trademarks of Google LLC.