Sharp Unveils the New Purefit Plasmacluster Air Purifier for Superior Healthy Living
Sharp Unveils the New Purefit Plasmacluster Air Purifier for Superior Healthy Living
Tested by over 35 institutions and organisations around the world, the Plasmacluster Ion Technology has been proven to effectively improve human health and well-being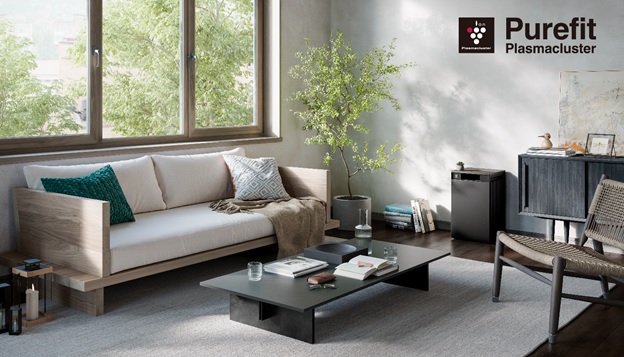 19 May 2023 – With 99.81% of the Earth's surface levels covered in air pollution below safe levels[1], air pollution remains a worldwide problem that continues to cause harm at all stages of life[2]. To tackle this, Sharp Corporation announced the launch of its Purefit Plasmacluster Air Purifier in conjunction with Sharp 2023 Regional Product Launch, featuring a modern design with natural textures to seamlessly blend with interior spaces, combined with innovative technologies, all to elevate the well-being as well as the lifestyle value of consumers.
[2] https://www.bbc.com/news/uk-england-london-65296752
"As a pioneering company in home appliances, we are proud to launch the Purefit Plasmacluster Air Purifier as part of Sharp's ongoing commitment to deliver unique Japanese innovative solutions dedicated to meeting the needs of modern urban living that enhances people's lives. Powered by our revolutionary Plasmacluster technology, we understand the impact of air quality on our daily lives and remain committed to enhancing the well-being and lifestyle of our consumers while ensuring the health of the planet," said Hideyuki Nagamine Head of PCI/HC Division of Smart Appliances and Solutions BU
Purefit Plasmacluster Air purifier uses various unique technologies in harmony with people's lifestyle.
By the new "dual suction" structure, it realizes obvious compact body size (333 mm x 330mm x 578mm) for its coverage area (84m2/JEMA standard), and combined with SHARP unique COANDA air flow technology as well as the triple filtering system, it provides authentic air purification performance and user experiences.
Moreover, SHARP's one of a kind Plasmacluster ion technology (PCI 25000) elevates the purification efficiency against both airborne and adhered substances such as virus, mould, bacteria.
About Plasmacluster
By utilising a multi-stage process, the Plasmacluster technology mechanism achieves unparalleled air purification, positioning it as the leading choice among ASEAN countries for superior air quality and a comfortable living experience:
Plasmacluster Ions, like the positive and negative ions naturally found in the environment, are surrounded by water molecules and are emitted into the air to last a long time.

Plasmacluster ions, specifically hydroxide (OH) radicals, are highly oxidizing when they attach to airborne microbes like allergens, bacteria, mould, and viruses. This process removes hydrogen from the surface proteins of these microbes, leading to their breakdown.

The combination of hydroxide (OH) and hydrogen (H) creates water(H2), which is then released back into the air.
Additional Discovery of Plasmacluster
Sharp's cutting-edge Plasmacluster Ion (PCI) Technology has been scientifically proven to have a positive impact on human health. Through numerous collaborative studies with universities across Japan and various industries, Sharp Corporation has discovered that Plasmacluster technology reduces stress, improves concentration levels, and enhances athletic performance.
In a joint research effort with Japan's Shizuoka University, the efficacy of Plasmacluster technology was demonstrated in promoting plant growth, highlighting its potential beyond air purification.

Suppress and Remove
With SHARP, one of the World's Leading Air Purifier Brands[1], consumers can experience the beauty of supreme purified air enabled by the power of Plasmacluster technology. This advanced technology, paired with its air purifier's high-performance dual suction, efficiently collects large volumes of air, providing supreme air purification. With its compact size, it effectively eliminates airborne mould while suppressing the activity of viruses, bacteria, and allergens that adhere to surfaces.
Remove Static Electricity
Designed with a sleek and contemporary design, the SHARP Purefit Plasmacluster Air Purifier demonstrates the perfect fit for various consumer lifestyles and home decor, while its advanced technology ensures a restful and rejuvenating environment by neutralizing the static electricity which realizes efficient removal of harmful airborne particles, pollen, and dust for a purer air experience.
Beautifies Skin
With its natural grainy texture that exudes an earthy and authentic feel, The SHARP Purefit Plasmacluster Air Purifier emits Plasmacluster Ions that delicately attach to the skin's surface, creating a nourishing protective layer. This layer helps to preserve precious skin moisture, enhance elasticity, and improve overall texture.
Safety
The safety of Plasmacluster has been thoroughly verified and tested according to the highest standards of good laboratory practice (GLP), using international testing guidelines established by the OECD. This ensures that consumers can feel safe and reassured when using our product. By adhering to these standards, SHARP has demonstrated its commitment to providing consumers with a safe and trustworthy product that they can rely on.
Since its initial launch in 2000, Sharp's air purification solutions featuring Plasmacluster Technology have exceeded 100 million units sold worldwide, signifying a positive impact on people's lives, regardless of where they are.
The new
Purefit Plasmacluster Air Purifier will be made available soon in September 2023 onwards. For 
more information, please stay tuned to Sharp's official website in each country.
For more information about Plasmacluster, visit https://global.sharp/pci/en/.
– End –
About Sharp Corporation                                                                                           
Founded in 1912 by Tokuji Hayakawa, Sharp Corporation is a global technology company renowned for its expertise in both B2B and consumer innovation. As one of the largest consumer electronics companies, Sharp has a presence in 8 regions, including America, Europe, Middle East, Africa, China, Hong Kong, Taiwan, and Asia Pacific, with over 70 wholly owned branches and subsidiaries.
Sharp has continuously evolving with original products, from the "Ever-Sharp" mechanical pencils to the world's first LCD electronic calculators. Driven by originality and the founder's spirit of sincerity and creativity, the company aims to help organisations of all sizes enhance performance and adapt to the future through innovative home and business products and services. Sharp will continue to revolutionise the world through its business vision of "Changing the world with 8K+5G and AIoT."
As of March 31, 2023, Sharp Corporation employs 46,206 people around the world and recorded consolidated annual sales of 2,548,117 million yen for the fiscal year ended March 31, 2023.
Sharp is committed to being a socially responsible company, conducting its operations with concern for the impact of its activities on its customers, suppliers, employees, communities, and other stakeholders, as well as the environment. Under its long-term environmental vision, "SHARP Eco Vision 2050," there are three main areas: "climate change," "resource recycling," and "safety and security." The company aims for an overall positive impact on society by contributing to the environment, culture, benefits, welfare, and quality of life for people throughout the world.
For more information, please visit https://global.sharp/.
For more information, please contact:
Sharp Corporation                                                                                 
Name: Zoe Chow                                                                                                        
Designation: Head of Asia Marketing Centre (AMC)                                                                                               
Email address: zoechow@my.sharp-world.com                                                                                                                                                  
Contact: + 6012 298 4274
WeChat ID: suyi7zhou