6 Things to Consider Before Buying a Washing Machine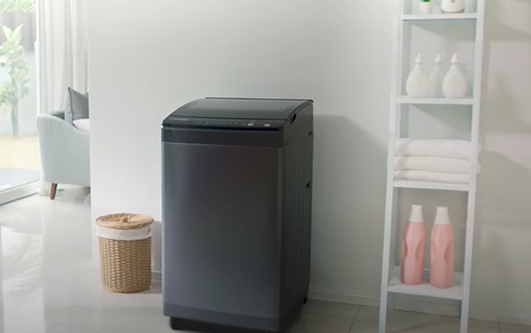 A washing machine is an essential home appliance for most households, and choosing the best one for your family can be difficult.
Essentially, many washing machines differ in terms of features, capacity, and load function. Besides, they have unique features such as quick wash and wash programs, rat mesh protection, child lock, temperature control, digital display, and more.
Traditional top-load washers, sleek front-load washers, and even compact, all-in-one designs are some of the available variants in the market. With so many different styles to choose from, deciding on the right one can be complicated.
Fortunately, we are here to assist you. Consider this article to be your laundry spirit guide, guiding you to the best washing machine for your needs.
What questions should you ask before purchasing a washing machine?
When looking for a washing machine, it is crucial to do some research to determine the option that suits your need the best. So before you go out to bring home a washer, here are some of the questions that you should ask before purchasing a washing machine:
What is the most reliable washing machine?
What are the features of a washing machine you prefer the most?
What does your daily clothes load look like?
How much space you have to fit a washing machine?
Do you need a front-load or a top-load?
Main Washing Machine Features Need to be Considered
In deciding on purchasing a washing machine, you need to consider various factors—those including its types, performance, sizes and capacity, efficiency, and design.
1- Different Washing Machine Types
Front Load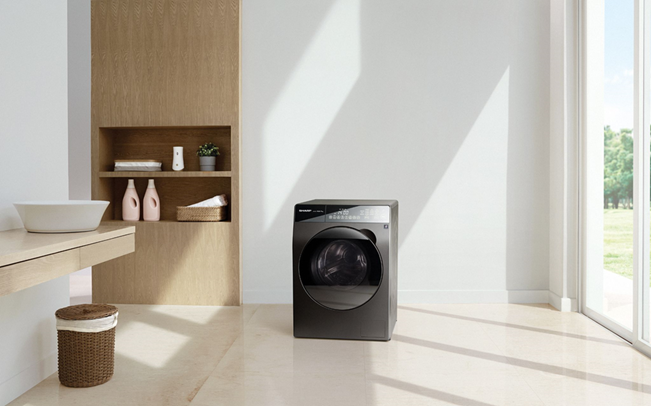 A front load washing machine is the best option if you have a small space for your washer and need to run many loads at once efficiently.
A front load washing machine is typically available in two variants: with or without a dryer. This washer with a 2-in-1 dryer feature is an excellent choice for those looking to save time.
In addition, several washing machine brands do also offer hot water and steam feature. This will help the cycle option to break down stains more effectively due to the high temperature of the function.
The intelligent inverter motor is another important feature of a front load washing machine. In general, a front load washing machine's inverter technology optimizes its speed based on the load. This helps with energy conservation and efficiency.
Top Load
Top load washers offer shorter cycle times and are less expensive to buy and repair. This machine typically uses a straightforward control panel to select the type of cycles you want, and this panel is a no-brainer to use.
A top load washing machine is classified into fully automatic and semi-automatic (twin tub).
A fully automatic washing machine is the most common type of modern washer. Since you only need to press a button to do your laundry, a fully automatic washer requires the least amount of human effort to clean.
In the meantime, doing laundry with a semi-automatic top load washing machine requires some manual intervention. There are two bathtubs. The first tub is for washing, and the second is for drying.
If the clothes need to be dried after washing, they must be manually transferred to the drying tub for the drying cycle.
Furthermore, top-load washing machines are classified into two types: inverter and non-inventer. The inverter motor rotates the tub without using a belt and pulley system instead of delivering power directly from the motor to the tub. This lowers energy consumption while increasing efficiency.
However, the bottom line is that neither one is significantly better than the other – it all comes down to your specific needs and preferences.
2- Washing performance
We can refer to the front load washer's drum or the top load washer's tub in terms of washing performance.
Stainless steel tubs or drums of washing machines typically outperform plastic or enamel tubs or drums. Stainless steel tubs and drums are the most durable because they resist corrosion, withstand higher temperatures, and spin faster.
The inner barrel of the stainless steel tub has a pebble-shaped and irregular surface that aids in thoroughly removing stubborn stains.
Furthermore, the cyclone effect within the pulsator design can generate strong water flow, minimize water resistance, and improve cyclone water flow.
Due to the fact that higher spin speeds can remove more water from clothes, stainless tubs and drums are more energy-efficient.
3- Sizes and capacity
The size of the washing tub determines the capacity (kg). A large-capacity washer may be preferred by families with children who do multiple loads of laundry per day. Smaller-capacity models that use less water and energy, on the other hand, can be more cost-effective for singles and couples.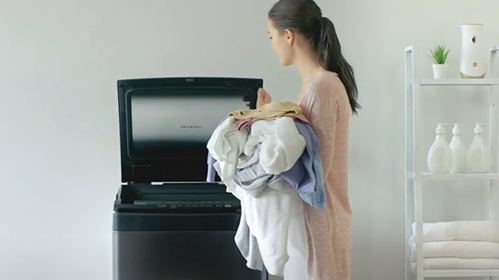 Capacity recommendation:
7-8 kg suitable for a household of 1-2 person
9-10kg washing machine ideal for 3-4 person
11-14kg washer fits better for a household more than 4 person
4- Energy and water-saving
Investing in an energy-efficient washing machine is an excellent way to reduce your environmental impact while also saving you money at once.
Front load washing machines with inverters have been shown to use less energy and water than other types of washing machines without sacrificing washing performance.
Therefore, you should look for an inverter in a washing machine so that your laundry can be done with less energy and water.
5- Design
Design of washing machine also becomes one of the most important considerations that should not be overlooked.
It is crucial to consider how much space the washer will take up in your laundry room. As a result, you will not choose an incorrect washer size that will not fit in the available space.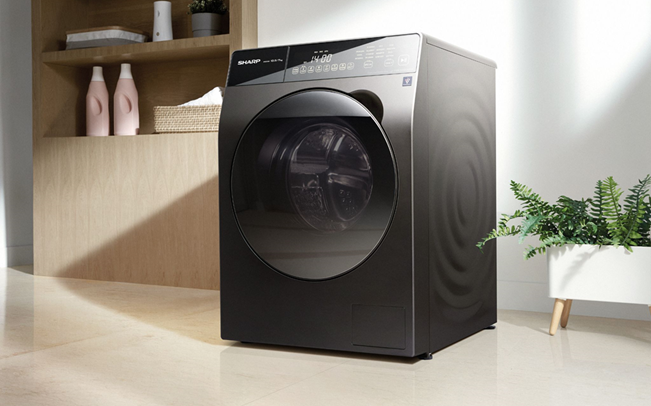 A washing machine with an elegant and stunning design, on the other hand, is a plus. Choosing one that complements your home's interior design can provide you with a more modern laundry room at home.
6 - Other feature examples that ease your burdens
When purchasing a washing machine, you should take into account a variety of other features too. Here are some features that can assist you with your laundry:
This feature shortens laundry time by running washing processes concurrently, allowing you to finish your chores faster and with cleaner laundry.
Plasmacluster technology:
Plasmacluster is one of SHARP's most renowned technologies, actively removing bacteria and odor from your laundry.
*Plasmacluster only available on the washer-dryer models.
The unique no-holes tub is the most recent technology capable of keeping impurities out of the inner tub. This function provides a more sanitary laundry solution.
Some washing machines come with a variety of intelligent washing programs that are tailored to your specific needs. Each cycle can be optimized based on the amount and type of laundry to be washed.
Soaking and fragrance function:
This feature can be used to soak clothes in detergent or softener for tough dirt removal and long-lasting fragrance.
Introduction to SHARP Front Load Washing Machine
Advantages of using SHARP Washer Dryer Front Load Washing Machine
Sleek design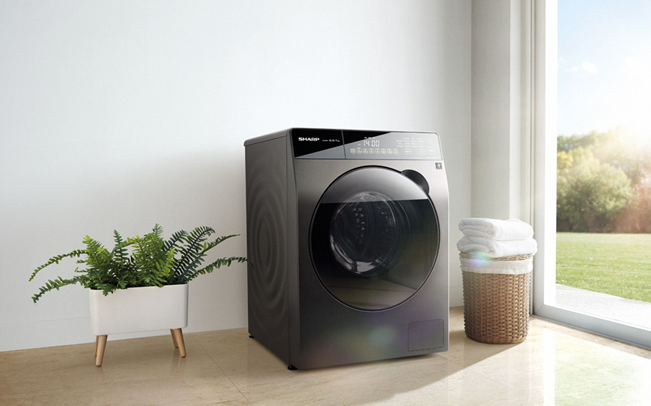 SHARP's Pro-Flex front load washing machine features a cutting-edge sleek design with attractive color options. Our washing machines are designed with a knobless control panel for easy usage and clean design, giving a classy touch.
Moreover, minimalist and clean design often gives an elegant sense to people. This is how SHARP's front load washing machine fulfills your aesthetic standard, giving the home a very sophisticated look.
Guided control
SHARP's front load washing machine provides you a variety of guided washing programs that cater to your specific laundry needs.
With a great extent of customized settings, you can choose your wash cycles based on different fabric types on the large display of our panel.
Superior washing performance
All SHARP's front load washer models have superlative washing performance so that you can enjoy superior cleaning for your laundry at a touch of a button.
The steam function uses a combination of steam and water to clean fabric more thoroughly. The steam can remove wrinkles and make detergent work more efficiently.
SHARP's exclusive Plasmacluster technology releases Plasmacluster ions that can actively remove bacteria and odor. This unique function also can be used to remove the bacteria and odor without washing your cloth. So you can enjoy hygienic clean laundry that gives you peace of mind in new normal.
Efficient and sustainability
With SHARP's J-Tech Inverter technology, you will also save on electricity.
Every motion generated by J-Tech Inverter delivers smooth operation and less noise without compromising on energy efficiency.
Introduction to SHARP No Holes Tub Washing Machine
Advantages of using SHARP No Holes Tub Washing Machine
Cleaner Hygienic Laundry
SHARP's No-Holes tub is crafted to be hygienic and clean, as water contained inside the tub remains unsoiled. This is distinct from the conventional tub, where holes allow water to flow in and out, resulting in mold build-up on the tub's exterior.
SHARP's No-Holes tub ensures you an ultra-hygienic wash by preventing the growth of mold outside the tub.
Water-Saving
Water does not need to fill and flow into an outer tub so that you can save up to 30% of water at every wash.
Gentler on cloth
SHARP's no-holes tub surface is completely smooth, so your clothes won't be caught in all holes and ensure a gentler washing on fabrics.
Powerful washing performance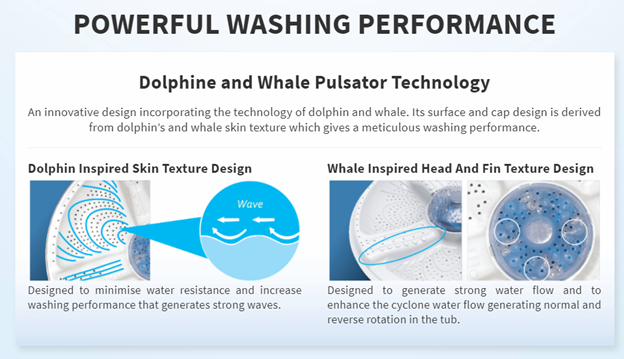 SHARP's No-Holes Tub washing machine has an effective washing power inspired by nature. The dolphin and whale-inspired pulsator design also provide a higher washing efficiency.
Quality Assurance – 7 Shields
All Sharp washing machines come with 7 shield quality assurance.
Lightning shield
Mould shield
Humidity shield
Coin shield
Corrosion shield
Rat shield
Fire shield
Are you looking for the most effective washing machine? Click Here for more product models and specifications: https://ph.sharp/products/washing-machine